A Labour of Love: A Nursery Reveal
Posted on May 29 2019
Steve and I were over the moon when we found out that we were having a baby back in September of 2018. Cut to 9 months later, and we welcomed our baby girl into our home with loving arms. I recall my mom sharing how much she enjoyed designing my room as a little one, and vividly remember the picket fence wallpaper she selected that decked out my room in style from the start. I was so excited to get our own nursery project underway in January 2019, that I'll never forget being the only one at the wallpaper store on New Years Eve to pick out samples (my idea of a good time - lol). I knew in my mind that I wanted the room to feel whimsical and not overly "baby" so that our investment in the wallpaper would last beyond her first couple of years.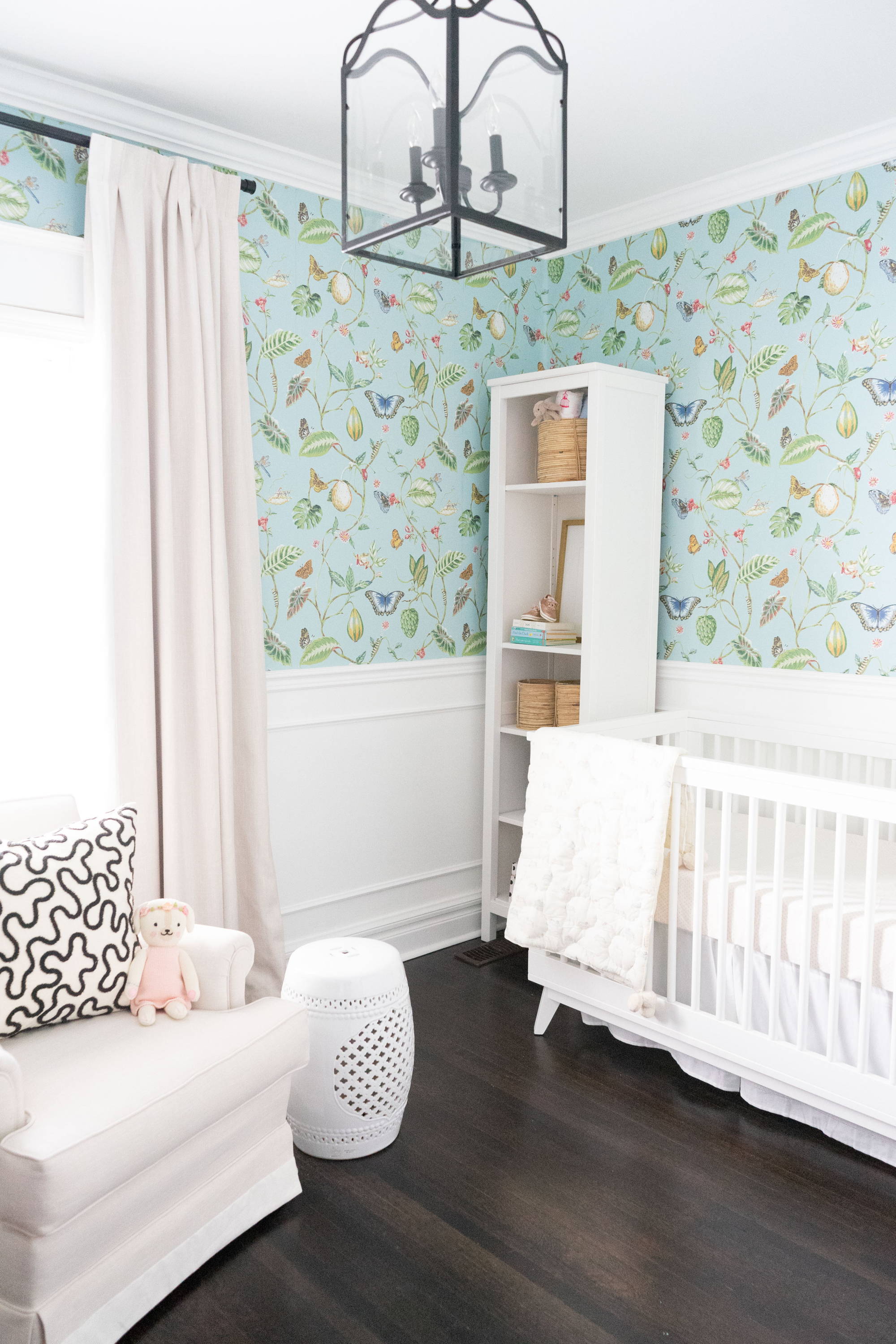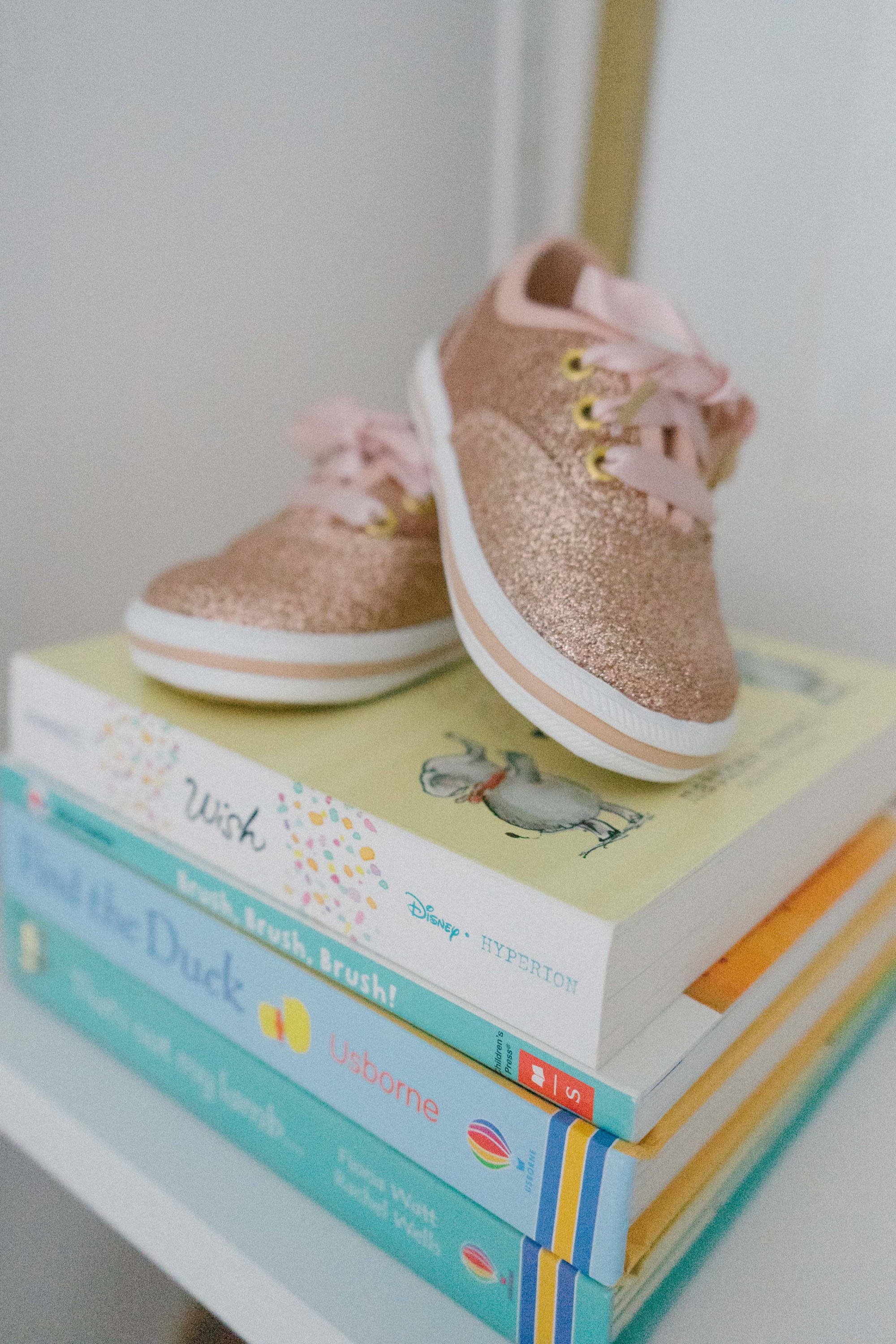 ---
Steve was keen to try his hand at installing panel moulding, crown moulding and hanging wallpaper for the very first time. Although he didn't have experience doing this before, he is incredibly patient and good at math, so I knew with a little time on our side and some YouTube tutorials, he'd nail this project! Given that our home was built in 1913, it has some charming quirks, like uneven plaster walls and sloped ceilings. This proved challenging at times given the large pattern repeat on the wallpaper that needed to be lined up so that it looked like an "enchanted forest" and not a "fun house". Over many evenings and weekends, he applied the trim to the walls, crown moulding to the ceiling and painted it all white. From there, he hung the wallpaper and said it was easily the most difficult part of the job, given the slope of the ceiling, uneven corners and cut-outs required around the doors and window.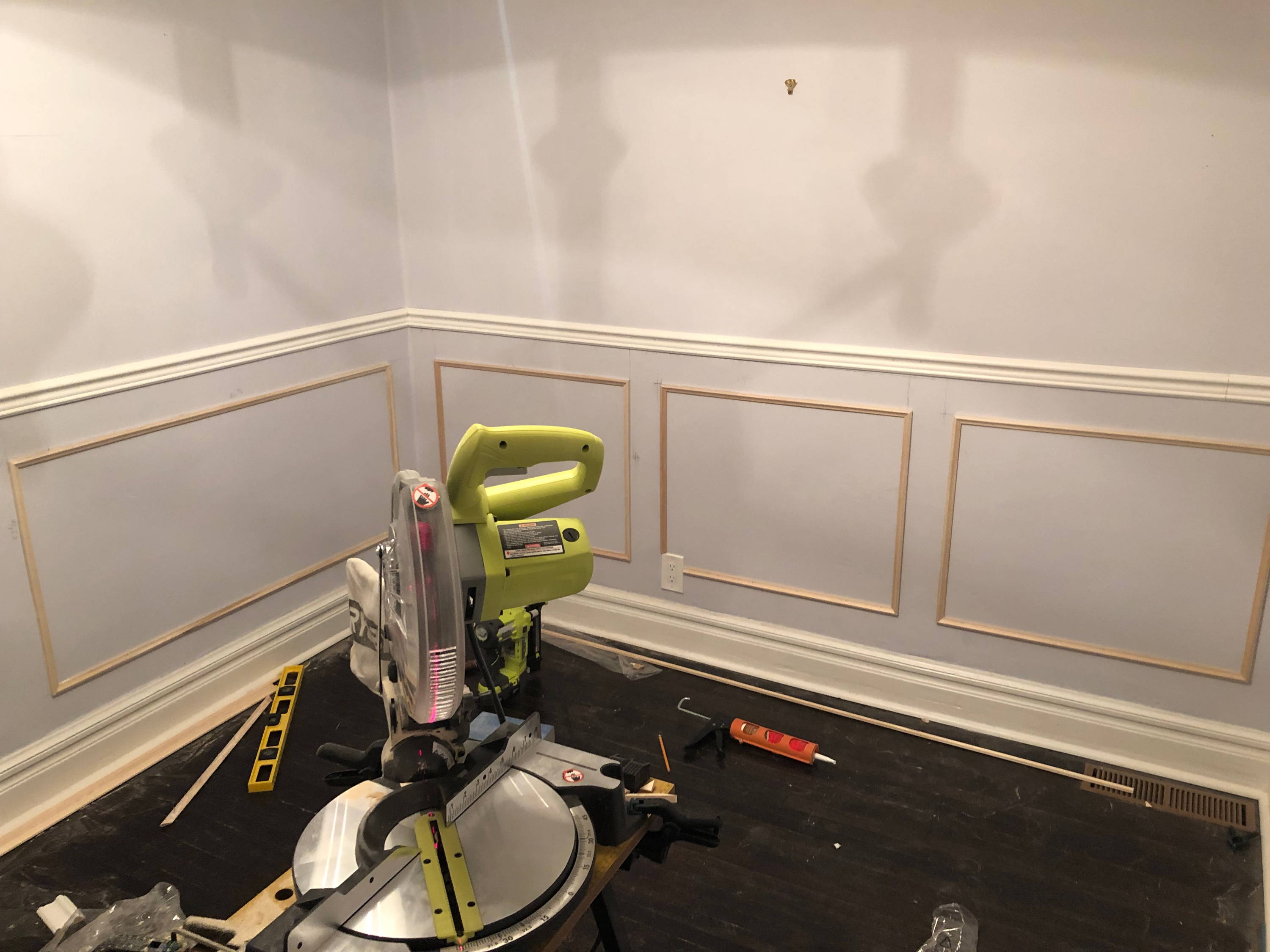 As I starting poking around for a chair for the room, my mom reminded me of a pair of club chairs that were being stored at their house in the event my brother or me wanted to give them some new life. The chair itself was really great quality, made in the USA and had a solid wood frame, but it needed some serious TLC. Although reupholstering professionally is not inexpensive, it was still worth the investment, given the high cost point to purchase a new chair of similar quality. Once that was decided, I selected a performance fabric in a neutral tone as I wanted the chair to be easily moved into another room once the infant stage is over. My mom had a brilliant idea to add off-white banding to the bottom of the chair to offer a bit more detail and also repeat that same white banding on the drapery.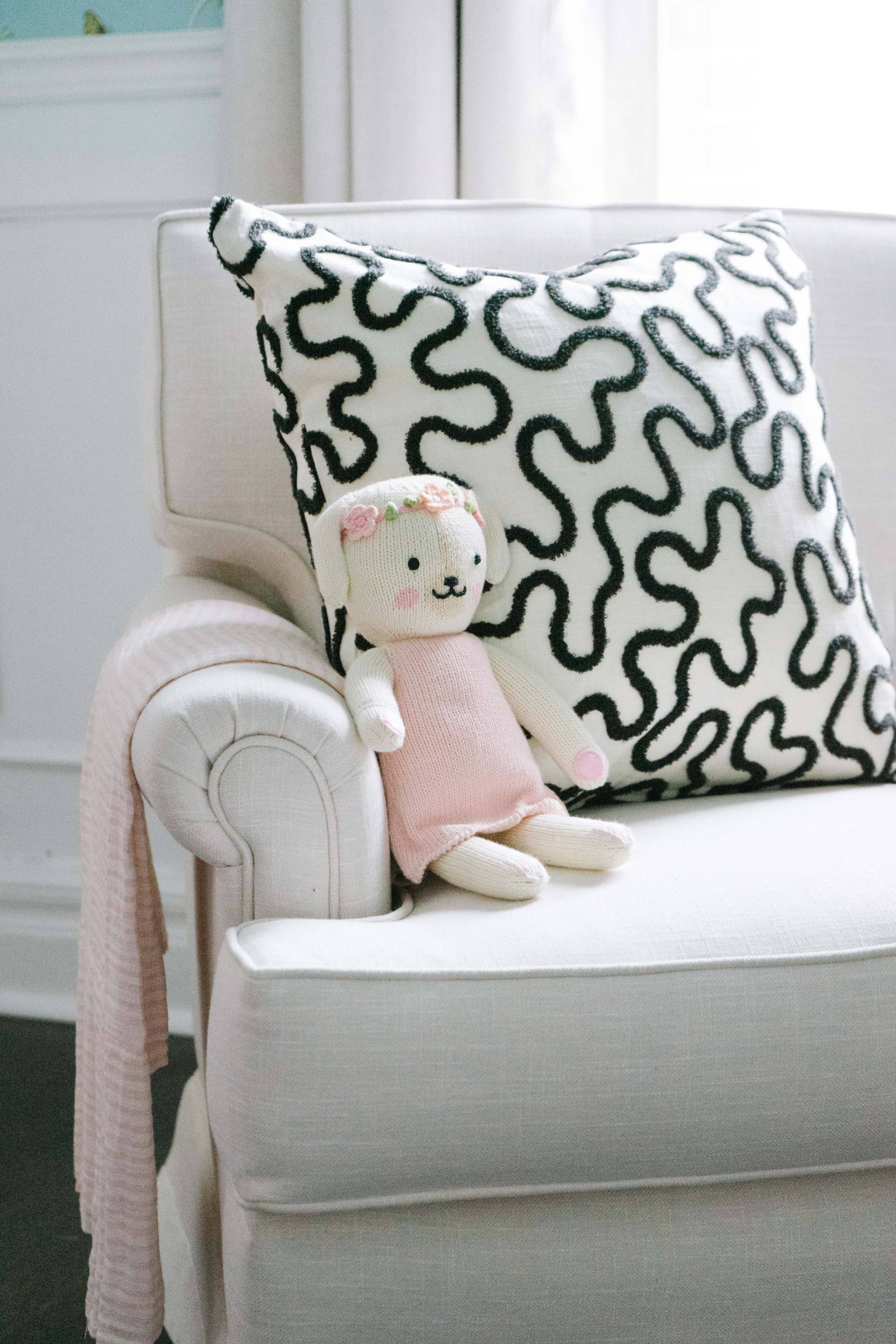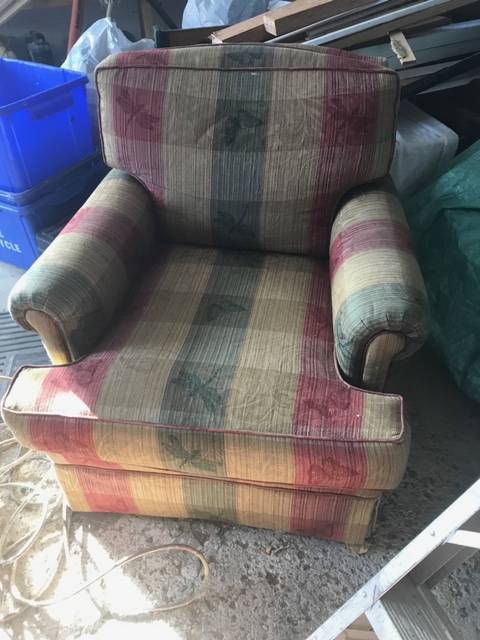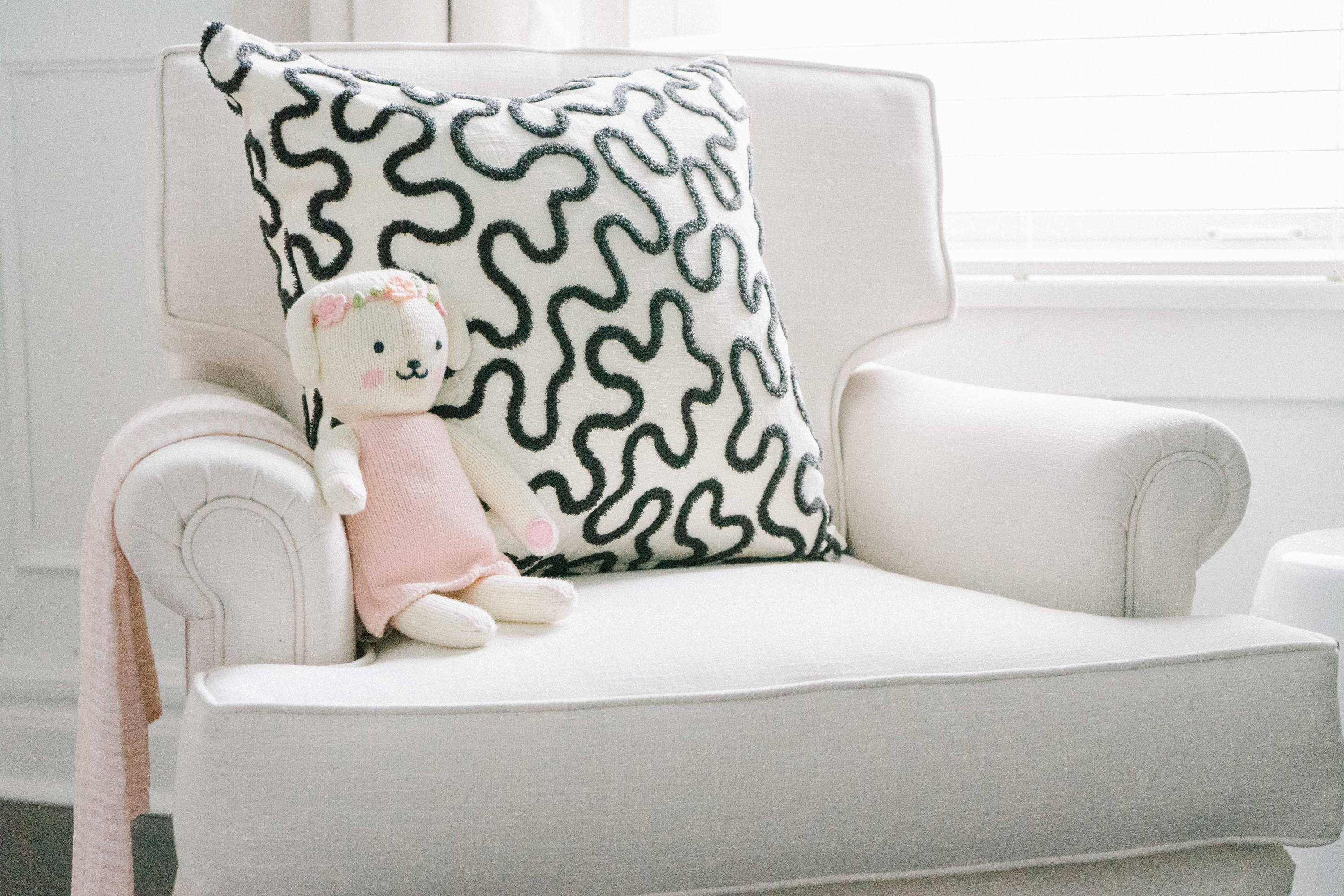 I enlisted the help of the talented seamstress we use to sew our Rainsford Company pillows to create the custom made drapes with black-out lining. She added the inset banding to the drapes for added detail and to tie in the banding on the chair.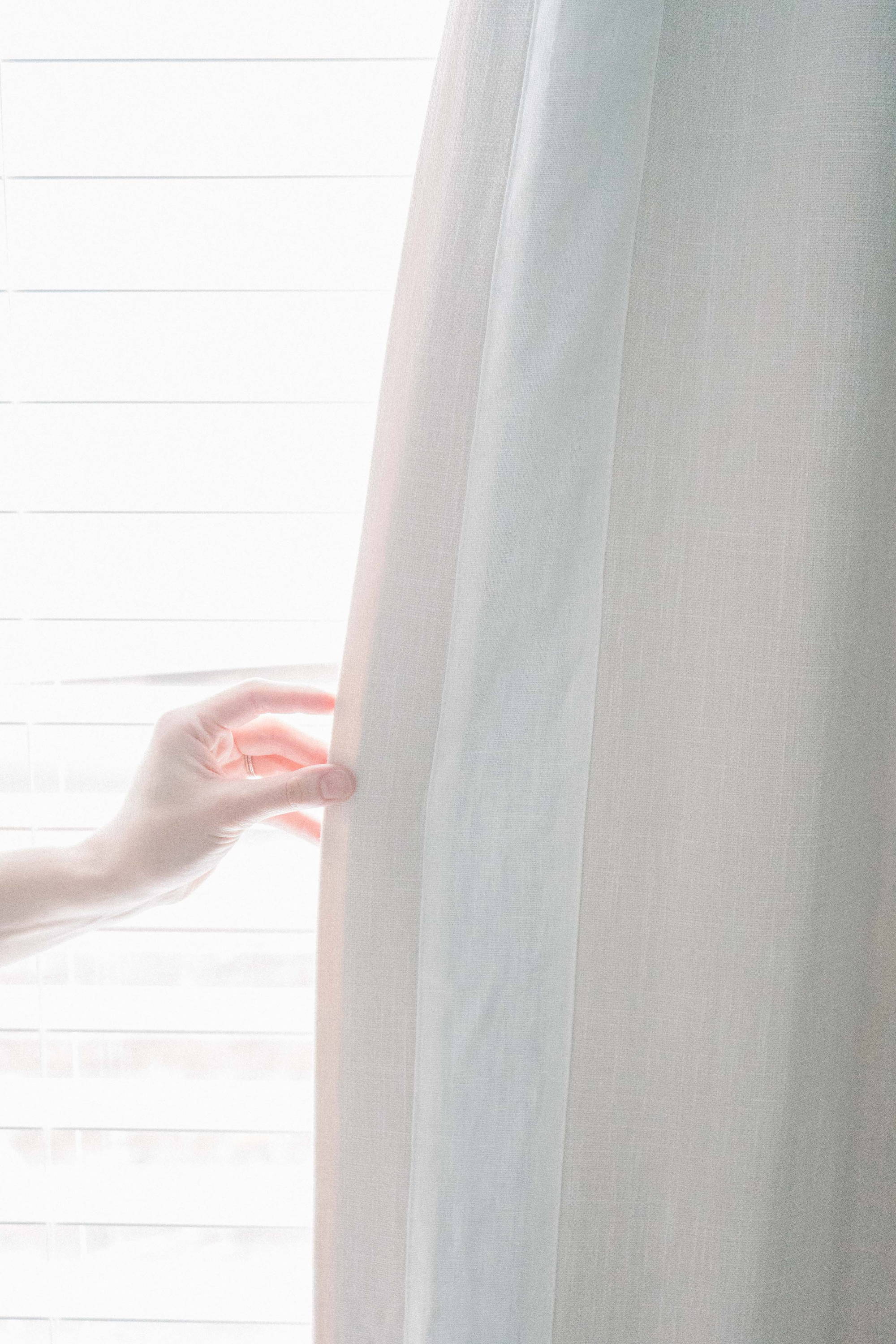 One of my favourite parts of the nursery is the addition of my Oma's dresser. It was made for her when she first moved from Holland to Canada by her father who used pieces of parquet flooring to create this sweet little chest in the early 1960's. When my mom offered it to me for our girl's room, I jumped at the opportunity to incorporate a little piece of our family history. My dad refinished the chest to give it a fresh new feel and polished up the original hardware, while my mom lined the drawers with green and white wallpaper - it was a full-on family affair!
The black lantern was moved from our dining room to the nursery during our recent main floor renovation. I always like the idea of incorporating black into every room to ground the space. This lantern was a steal that I picked up on my way home during my old commute on the 501 streetcar. It was a literal "STOP THE BUS" moment when I saw a furniture store going out of business and selling off their merchandise at a discount. Needless to say, I bought this lantern and a large mirror that lives on our main floor for a steal and I quickly called Steve to pick me up with an empty car to haul my finds back home (he puts up with my impulsive antics!).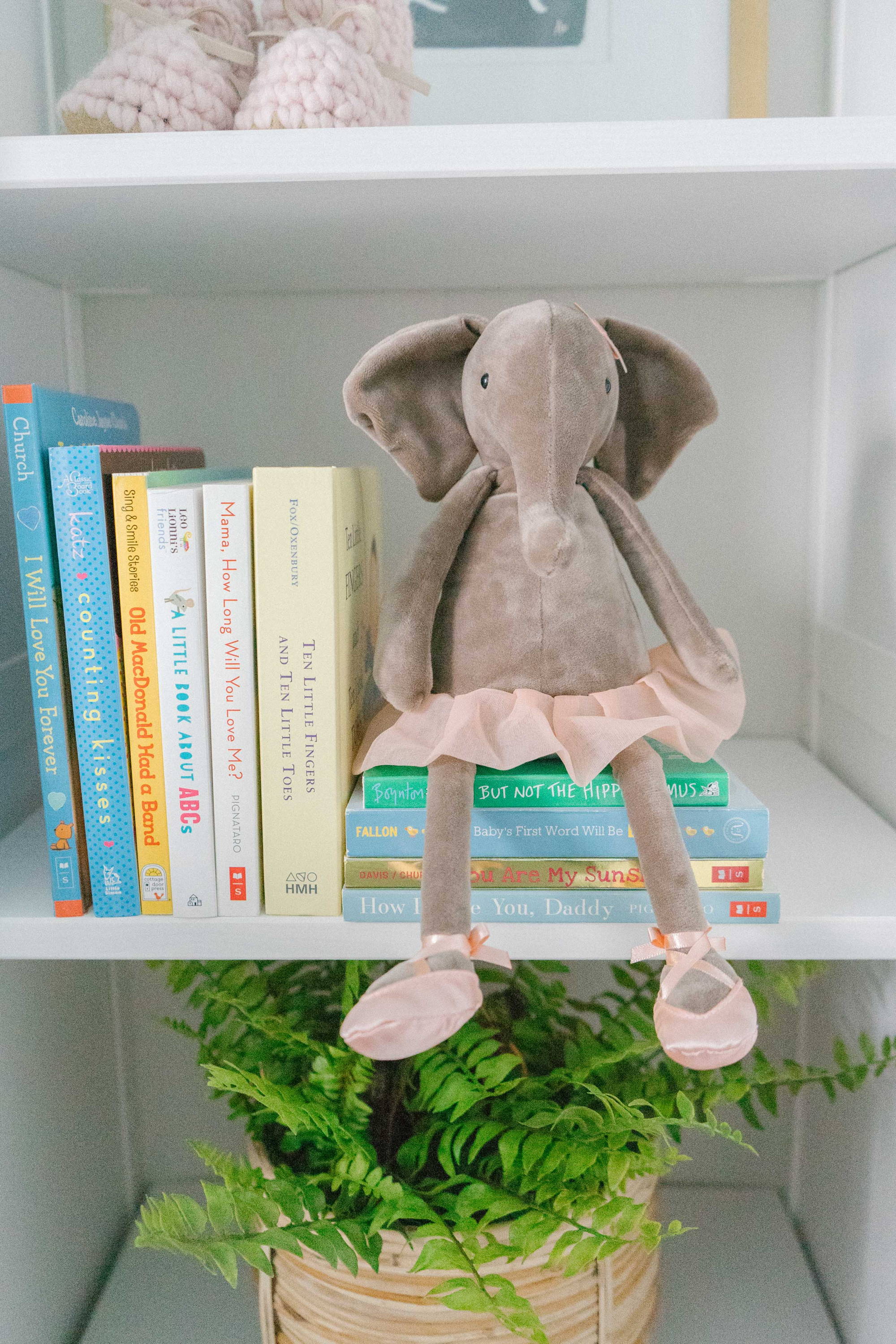 I love the classic look of the black Charlotte Mirror, so we securely fastened it to the wall and I love how it ties in the black in from the lantern and the wallpaper nicely. I selected a more modern looking crib as I didn't want the room to feel too fussy with the vintage dresser and traditional wallpaper. I added in two Ikea shelves that have been fastened to the wall for storage of books, toys, etc.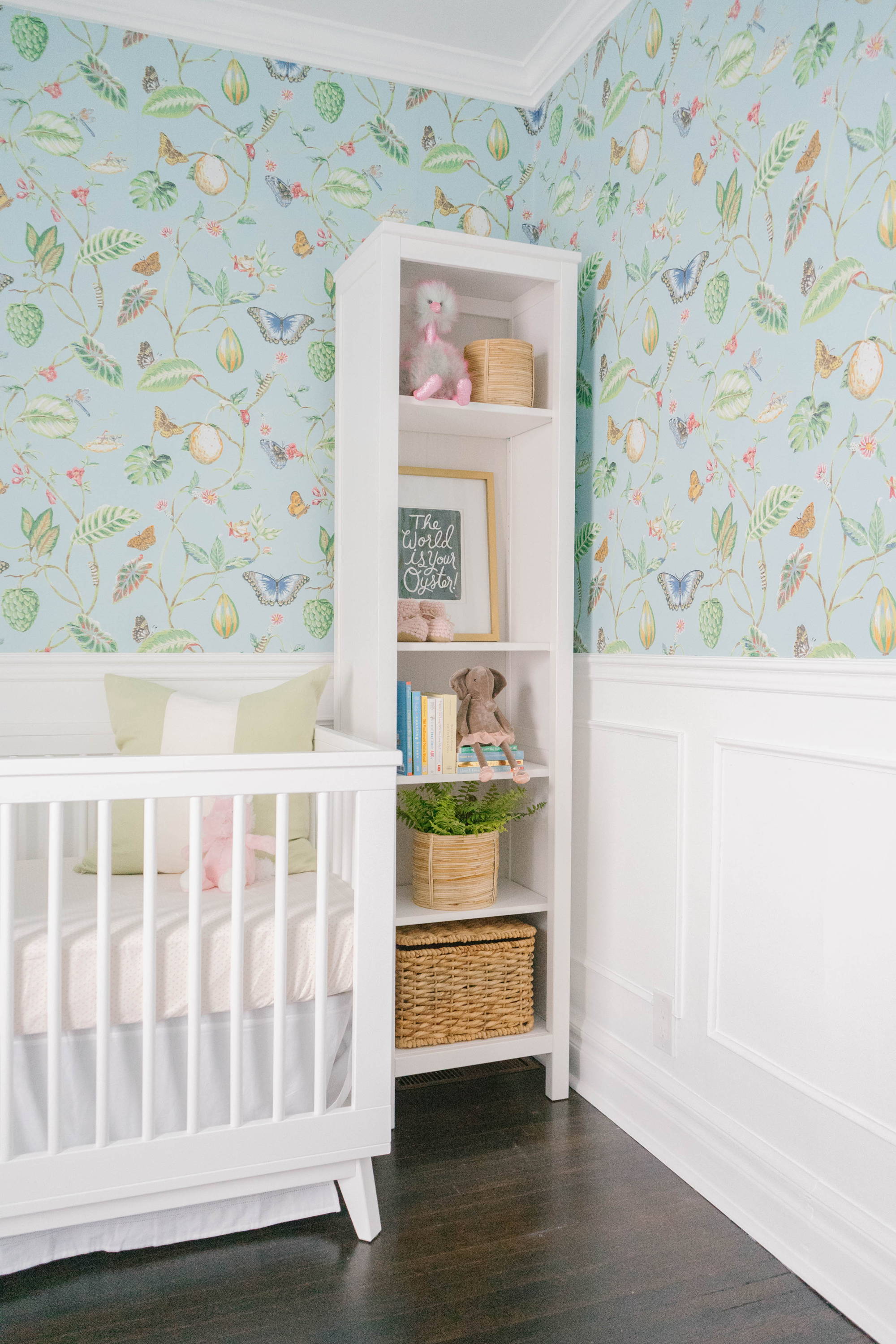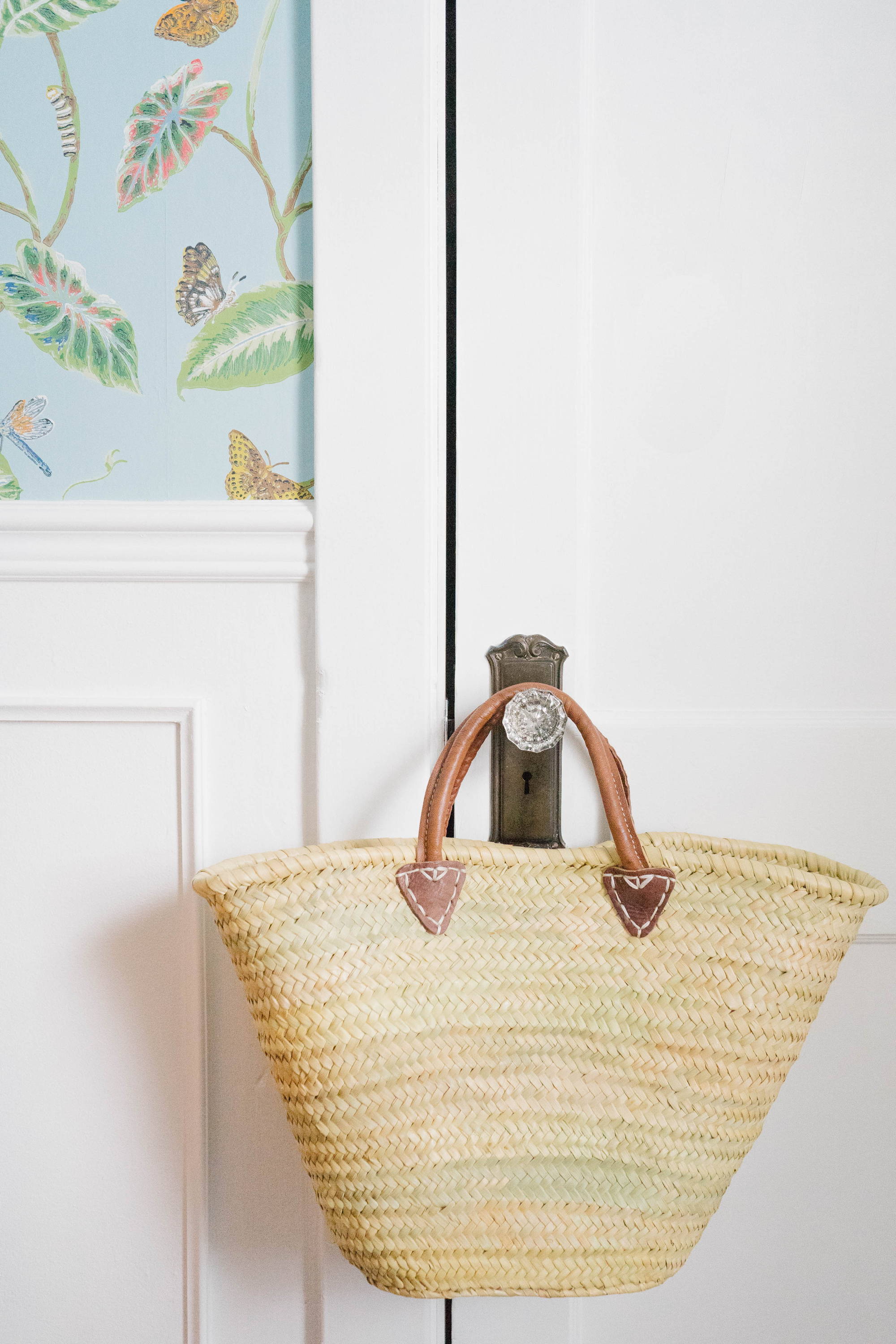 We want to thank everyone who has cheered us on during this exciting journey of building a new business and a family. We look forward to sharing more updates with you as time goes on.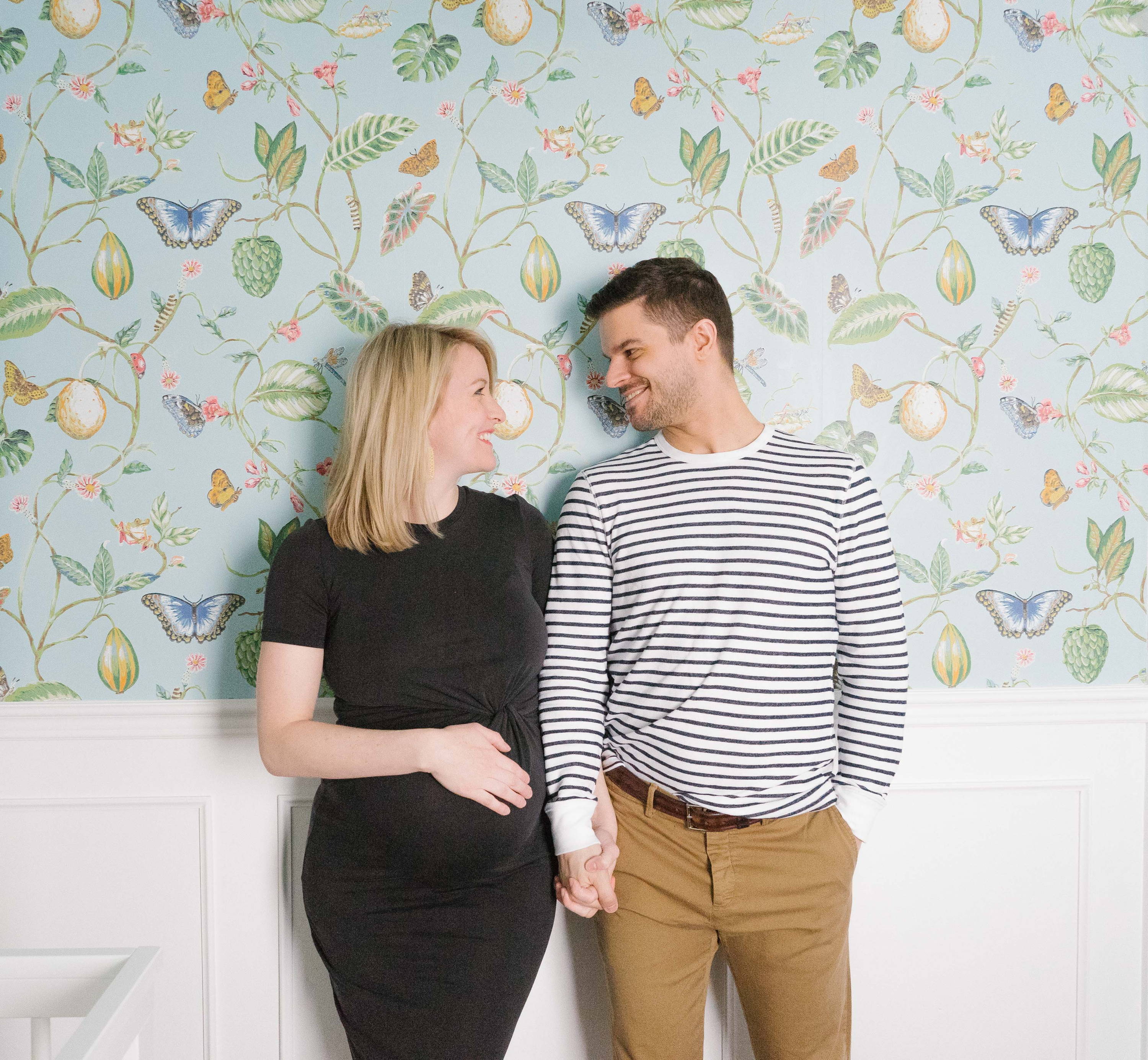 ---